LightWave Emergency Services
LightWave was a first responder at Ground Zero following the events of September 11, 2001.
Responding at Ground Zero
On September 11, 2001 many people in New York City were left without phone service due to the attacks on the World Trade Center. LightWave was one of the first companies to be called to the scene at Ground Zero. The Verizon building at 140 West St. was severely damaged when World Trade Center #7 collapsed on it, cutting off communications to thousands of people in lower Manhattan. Within 7 days of initial customer request, engineering was complete, materials were on-site, and installation had begun.
Building, Protecting, and Restoring Communications Networks
Natural disaster and hostile actions often cause damage to infrastructure, leaving many without communications. Communication becomes increasingly important during rescue and rebuilding efforts. How we prepare for and respond to the unexpected is the key to minimizing the impact of these events. As a member of the American communications industry, LightWave is committed to protecting and restoring global communications.
The speed in which communications are restored is critical.
Sound infrastructures need be built, maintained and supported in a timely and competent manner.
Proven Track-Record for Responsiveness and Reliability
LightWave provides 24/7 emergency on-call support and is the sole provider of ongoing preventative maintenance services to some of the industry's largest service providers. Our long-standing relationships with our customers are a testament to our ability to deliver under budget and ahead of schedule.
Emergency Restoration Vehicle (ERV)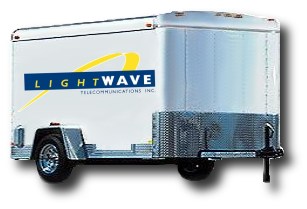 LightWave designs and builds self-contained, customizable, mobile communications units, capable of providing instant high-speed voice and data service from anywhere. The ERV is essentially a Central Office on wheels. We custom-engineer and build every ERV to meet our customer's needs. Generally, our ERVs are based on a mid-sized trailer, although we offer full flexibility on the platform. ERVs can provide a wide range of services from hundreds to thousands of high-speed lines and can be driven anywhere for immediate service.
Advantages: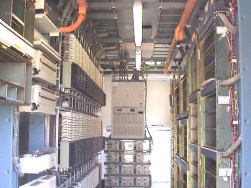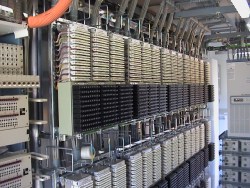 The ERV can be transported to the scene of a disaster for emergency phone service.
The ERV can be deployed where additional lines are needed on a temporary basis, such as sporting events or conventions.
The ERV can be shipped overseas and be easily modified to provide service where building on-site is difficult or dangerous.
The ERV comes in various sizes and configurations suitable to meet customer specifications and geographical terrain considerations.
The ERV can interface with existing infrastructure where feasible to restore service to existing lines.
The ERV units are configurable to access wireless and satellite systems where traditional infrastructure is unavailable.
Summary of Features:
Various configurations suited to any need
Multiple redundant power systems to provide many hours of autonomous operation
Supports virtually any telecom or network equipment
Able to serve thousands of telephone lines, or equivalent data connections All equipment pre-installed & tested by LightWave